Due to the overwhelming positive response, I will be doing every couple week bumpdates. Please feel free to skip them if seeing a weird alien belly gives you the willies. I have every couple week pictures from my pregnancy with Eva also so I will post those along with my current pics to see how different (ie bigger) my belly is the second time around. I am 18 and a half weeks pregnant today.
How far along? 18.5 weeks
Size of baby? Bell pepper
Weight gain?
+10 pounds. Yep, blowing up.
Sleep?
OK, although I have started waking up numerous times/night.
Best Moment of the Week? Getting the results of the MaterniT21 test (NORMAL for down syndrome and other chromosomal abnormalities).
Miss anything? Wine. We went to a party last weekend and people are seriously less interesting when you're sober. Seriously. And exponentially more annoying.
Movement?
Just in the last day or two.
Food Cravings? Anything and everything. I cannot get enough food.
Gender?
BOY!
Name? Ugh, nope. Naming a human being is hard.
Symptoms? Pregnant (read that as fat, pimples, cellulite).
Belly button in or out? In mostly but not for much longer.
Looking forward to: Feeling him more regularly and for B and Eva to be able to feel him from the outside.
Next baby boy check-up?: Today. Yeah, I have a lot of appointments.
Updates: We had our 18 week scan (normal anatomy scan) and also his first growth check to check for intrauterine growth restriction (IUGR) due to low PAPP-A. He is growing perfectly for now (YAY!) and weighed 9 ounces (if someone can please let my body know that gaining 10 pounds for a 9ounce baby is a bit excessive, I would appreciate it). While he is the proper size for now, they did find a "spot" on his heart indicating echogenic intracardiac focus. Supposedly this anomaly is fairly common and should not be of much concern for me, says both my high risk doctor and the all knowing "Doctor Google". Trying not to stress but abnormalities, increased risk factors, and anomalies are scary when you're growing a human being. Baby's next growth scan is in 4 weeks.
18.5 weeks with Baby #2
18 weeks pregnant with Eva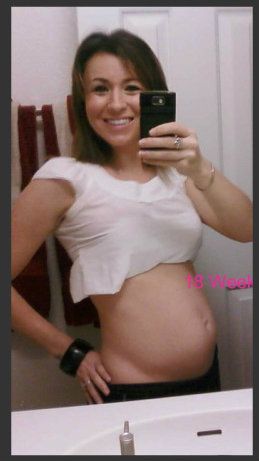 Have you entered my Project Baby Smiles giveaway? Click here to enter!